In Loving Memory Of:
Army Spc. Brian Alexander Vaughn

Alex was 23 years old and a resident of Pell City, Alabama. He was part of 1st Battalion, 9th Infantry Regiment, 2nd Brigade Combat Team, 2nd Infantry Division. Alex was killed in action on June 21, 2005 when his unit was attacked with small-arms fire during combat operations in Ramadi, Iraq. May his efforts and presence never be forgotten. Read Alex's journal below which was sent to his family before he died.
Submitted by Alex's very proud and loving mother, Terry Savage

From the journal of Spc Brian Alex Vaughn in Ramadi, Iraq
These were his writings to me, his cousins, aunts and uncles, grandparents, brother and sisters in case he died. –Terry Savage
I am a hopeless romantic. One of my greatest fears is to never find someone to truly love me the same as I love them. To love someone and find they were only faking it. The other is that no one will really know how much I love them. I honestly can't express the love I feel for the people in my life. There are no words for what my heart wants to say. Corny or not, it's the truth. If I die out here, I feel they will never know. I love my family more than I can say and my friends as family. If you are reading this then things did not go well and you have to know that I am sorry. I could never express my love for all of you in a way that would give credit to my feelings. In less than 2 days we go on a mission to confront and kill the enemy. I love you all so much that it breaks my heart just to write this. If any of you liked who I was, just know that it was because of all of you that I lived this way. Thank you all for letting me love you.
I have been your son, your brother, your cousin, your nephew, your grandson, your friend, your Best Friend, your comedian, your nuisance and lastly, your soldier. I do not regret anything I've done, even the mistakes make you who you are. Just know that if I die, that I did it trying to bring back as many people to their families as I could. I am sorry if I don't make it home to you. I love you ALL.
Brian Alexander Vaughn
Alex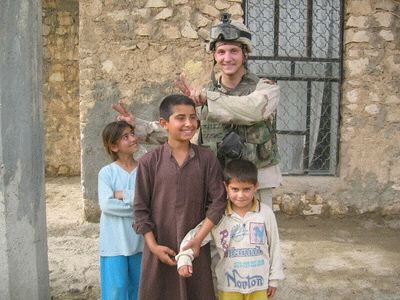 At 900 hours we are going to roll out to Ramadi. The plan is to drive to every hotspot until we receive fire. Then we jump out of a perfectly good Bradley and run in shooting. I feel I have my work cut out for me. I am going to bed soon, but this is the last chance I may have to write.
Mom and Pat, I love you guys. I would not be here or be the man I am without you Mom. Pat you take care of her now, you hear. Adam, you know there is nothing I can say to you to express it. Thanks for growing up with me dude. I love you.
Ashley, Lacey, and Dallas, you are my sisters. I love you. Thanks for allowing me to share my years (and your living space) with you. Paul and Kim, I love you guys too. You have me so much time and love. Paul, you taught me a trade. Tell Joe thanks for the job and well …..
Dad, we lost a lot of years, but Mom always tells me she sees you in me. She says that I do some very "Jim Vaughn" things. I always liked that. I love you too.
Monica, Justine, and Felicia. God I wish I could see you again if only once more. I fell in love with you girls instantly. You've always been my sisters, I just didn't know you till a few years ago. Cindy, I always loved getting email and letters from you. I love you.
Maw Maw and Paw Paw, I couldn't live without your love. Thanks for all the love and the prayers. Remember that God has a plan and that He was watching me the whole time. This is just a part of it.
John, Wanda, Chris and Amber, You have always been there for me and I thank you for being such a big part of my life and my raising. I love you guys. Tell the kids about me.
Uncle Bubba & Aunt Stacee, I loved you guys so much. Aunt Stacee ROLL TIDE!!! hee
Nanny and Mac, I love you so much. You gave to me when you didn't have to give. I can never repay you for a love that deep.
Angel and Pat, Thank you for giving me a chance and for growing up with me. May your family ever be strong.
I have to go to bed now. I left out a lot of important people but I hope none of you ever have to read or hear these words. May this be something I look back on and laugh. I love you all the same. Now I have to go be a soldier. It's time for bed or I won't be able to perform. I love you all dearly.
Alex Vaughn